The Past Due Schedule is used to schedule late fees, lien notices, and other actions when a tenant is past due. Once your past due tasks are set up, you will see tasks that need to be processed on the Tasks & Letters screen.
To set up or make changes to your past due schedule in SiteLink Web Edition, navigate to Setup.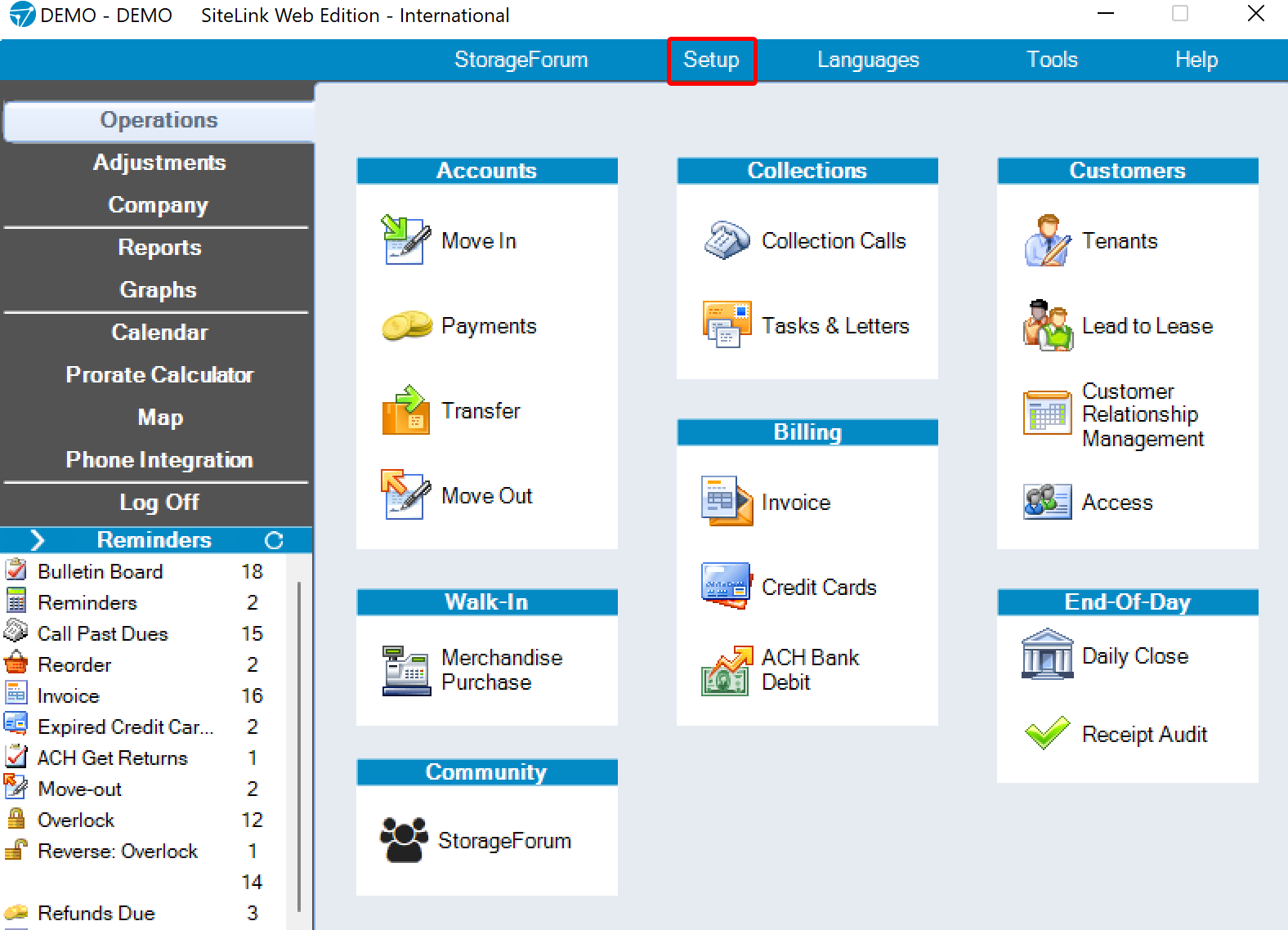 Click Past Due Schedule.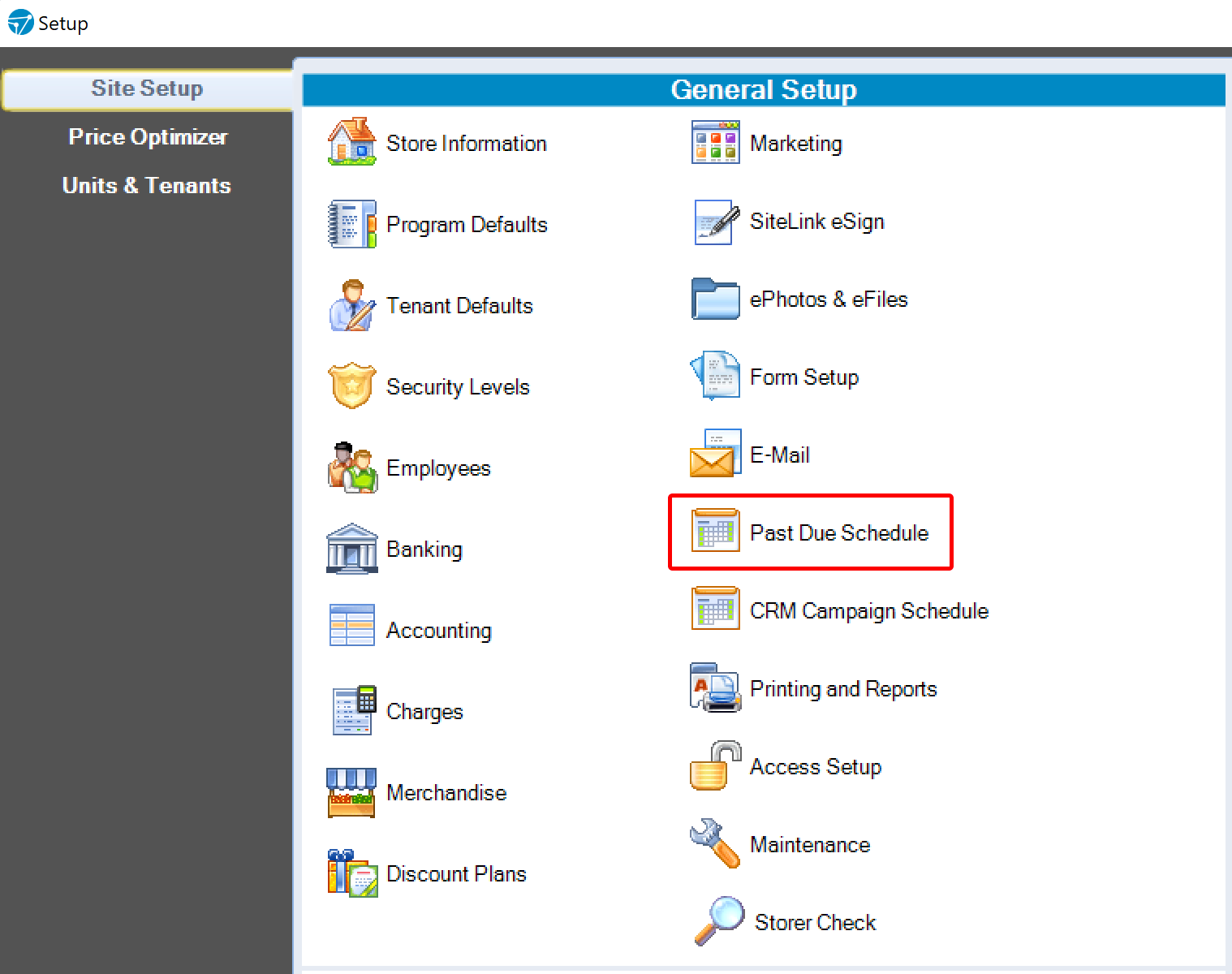 You can Add, Edit, or Delete past due events by selecting an event and clicking the relevant button from the menu on the right side of the screen.

Click Edit and check or uncheck the box labeled, Used at this site to enable or disable an event.

General settings
Most past due events will process a letter (form), add a charge/fee, or both. Before you set up your past due schedule, ensure any relevant letters and fees are set up in SiteLink. You can find instructions in our help articles:
Note: If you reprint a letter that has an associated fee, the tenant will be charged this fee twice. For this reason, it is best to make printing letters and charging fees separate events in your past due schedule.
Past Due Document Delivery Method
Checking Print for a past due event will force the document to be printed regardless of the tenants individual settings.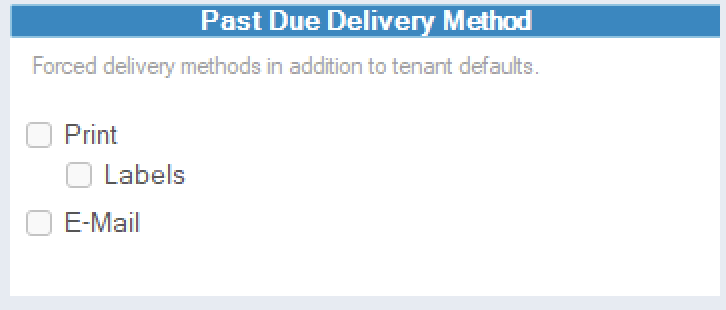 Display this event on the reminder screen
Checking this box for a past due event will create a reminder when it is time to process the past due action.

Days past due
When you set Days past due when this event occurs for an event, SiteLink does not consider the tenant late on day one. If the tenant is due on the 1st and the event is set to 5, the event will occur on the morning of the 6th.

Gate Lockout
Gate lockout happens automatically based on your settings. SiteLink will lock the tenant out of the gate based on the days past due you select.
Learn more about gate lockout settings in our article: Set a prerequisite event for gate lockout.
Overlock
Overlock events indicate when a physical lock should be added to the unit door and must be processed manually by a manager.
Late Fees (1-5)
SiteLink offers 5 Late Fees that you can customize on the Charges screen. Late Fees are added automatically overnight without manually processing a past due event.
Late fee Options:
One time late fee:

Checking this box will charge the tenant the first time they are late. If the tenant is still late at the next rental period, another late fee will not be added. If you do not select this setting, the tenant will receive a late fee every rental period they are late. The event will reset automatically when the tenant pays the rent balance in full.

Daily late fee:

SiteLink allows you to charge daily late fees for Late Fee #1 only. If you select this setting, tenants will be charged the fee you have

set up in Charges

everyday until the tenant pays.

Auction
Days Past Due for the Auction event is specified by the Schedule Auction event. The Auction event will show the tenant in the list of tenants who have been assigned an Auction date.
Insurance Cancellation Notice
The Insurance Cancellation Notice event generates a notice when the tenant's insurance payment is past due to notify them that their tenant insurance is going to be canceled for non-payment.