This article is intended for SiteLink clients who are using Storable Payments as their payment processor.

If you upgraded to Storable Payments from another payment processor, you may have used a Virtual Terminal in the past. With Storable Payments, all the functions performed in a Virtual Terminal can instead be done directly through SiteLink in both myHub Corporate Control Center and myHub SiteLink Web Edition.


In myHub Corporate Control Center
Transactions
Click Transactions to see all payments made, including failed attempts.

You can compare your Daily Close reports from SiteLink Web Edition as part of your reconciliation process to match up transactions. The information can be filtered by location or you can search by the last four digits of the credit card number. The transactions may also be exported to see the details in an Excel or .csv file.

The Pay Date is the date when the transaction was run.
The Status column shows if the transaction was approved or failed. If approved, the status will change to Settled once the transaction has been funded to your account.
The Transaction Type column will show whether the transaction was a sale, refund, or void.

If you accept both credit card and ACH payments, you can filter the Transactions list by either payment type from the Payment Method dropdown list.
CC Deposits and Fees
Export your data
| | |
| --- | --- |
| You can export your deposit data and filter it by date range and facility. Select the Start Date and End Date for the time period you would like to download data for and select which facilities you would like to include from the drop-down menu. Click Apply. | |
| Click the Export button to download an Excel file. | |
Fees
From the CC Deposits and Fees page, you can click the Fees tab for more information about the fees that you are charged. The date shown for each statement period is when the fees are collected for the previous month. For example, fees collected on 05-oct-2020 are fees for the month of September 2020. Click view next to the statement you would like to see more information for.

Your fees page will look a bit different depending on whether you signed up for Flat Rate fees or Interchange Plus fees. For a full breakdown of what each fee on this page means, read our article: Storable Payments Fees.

How are fees processed?
Your monthly statement balance is automatically paid on the 5th calendar day of the month. Your payment is withdrawn from the bank account that receives your daily deposits and will take about 3-5 business days to process. This means that you should expect to see the payment deducted from your bank account around the 8th-10th of the month.

What should I do if I have a question about my fees?
If you are confused by a fee charged to your account, we first recommend referring to the fee schedule you were provided with at onboarding to seek an explanation. If you would like to discuss your fees, contact Storable Support at merchantsupport@sitelink.com or 512-886-1840.
Print your Monthly Statements
To download or print your monthly statements, navigate to the Statements page in SiteLink MyHub Corporate Control Center by clicking Payments and then Statements from the left side menu.

The Statements page shows the monthly statement for each facility on your account. You can filter it by date range and facility.
Click Download for any statement on the page to save a PDF file of the selected statement to your computer.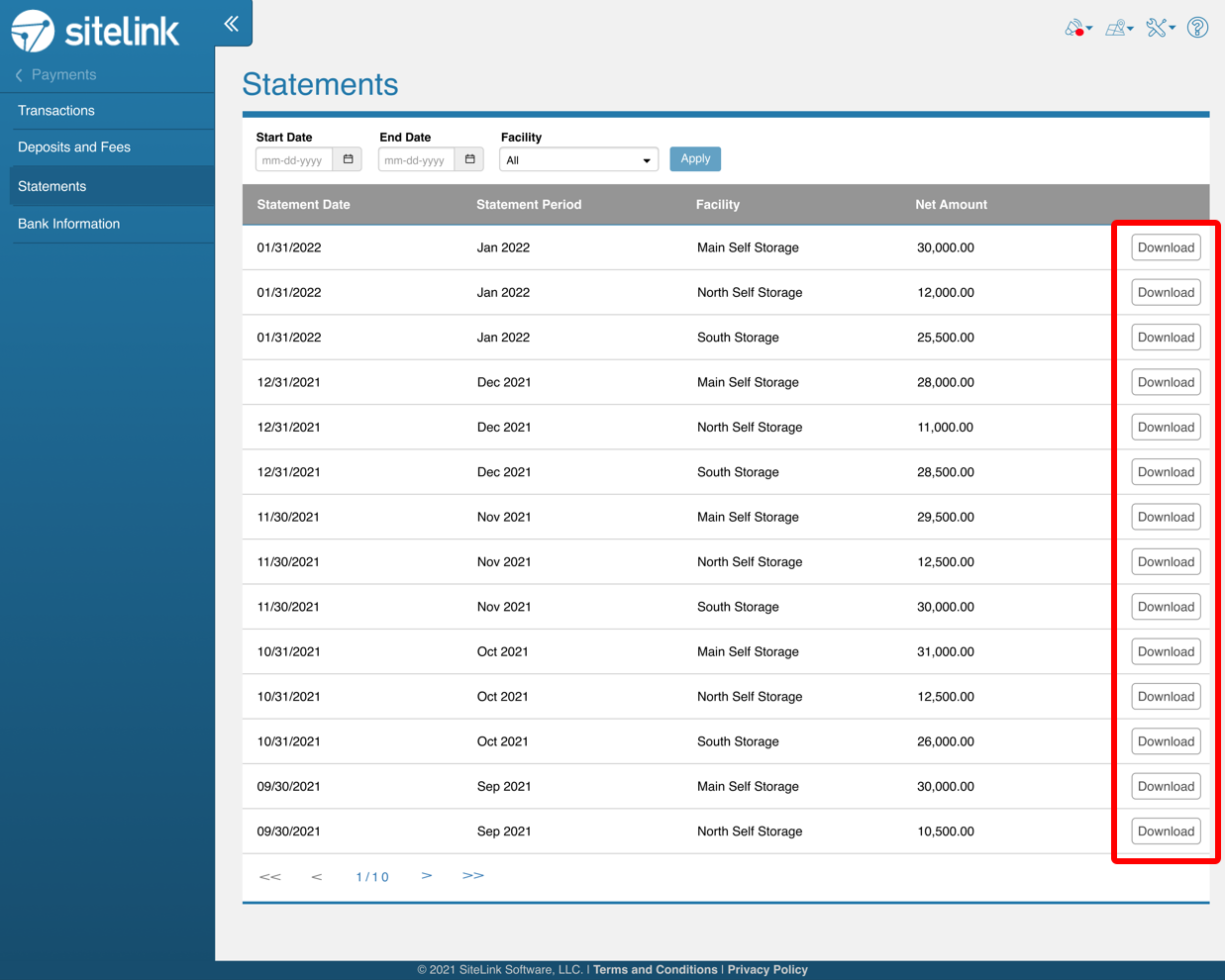 In myHub SiteLink Web Edition
The Transactions and CC Deposits and Fees pages are also available in myHub SiteLink Web Edition so that you can view that data for any sites you have access to without logging into the myHub Corporate Control Center.

This makes managing credentials for myHub Corporate Control Center easier by giving you all the payment information you need to do their job in myHub SiteLink Web Edition. It also makes it simpler for you to check your locations' transactions without having to switch between site logins.

To access these pages in myHub SiteLink Web Edition, login into myhub.sitelink.com and selecting Storable Payments from the menu on the left.

You will see the same information as indicated in the Transactions and CC Deposits and Fees sections above but only for the location you are viewing.