⚠️ Auto-Protect is available to facilities that use Storsmart or Bader as their insurance provider.
Auto-Protect is a feature within SiteLink software that enables you to ensure that all occupied, insurable units at your facility are covered by some form of insurance. With Auto-Protect enabled, SiteLink will automatically enroll tenants in your store insurance plan if they fail to provide proof of private insurance coverage within a grace period after move-in.
Auto-Protect provides you with everything you need to automate insurance enrollment for new tenants, including document management, customer communication, and billing.
How Auto-Protect works
1. Enablement
Auto-Protect is an optional feature, so you'll need to enable it within your software settings. You can exclude specific unit types from insurance enrollment to ensure you don't sell insurance plans for unit types that aren't insurable.
For instructions, read our article: How to enable Auto-Protect.
2. Move-in
When a tenant moves in online or in-person at your facility, they will be required to sign an Auto-Protect Agreement. It states that the tenant agrees to be enrolled in and pay for your facility's insurance plan if they decline to purchase it at move-in and they don't provide proof of private insurance within the 14 day grace period.
For instructions about what to do at move-in, read our article: Moving at tenant in when using Auto-Protect.
3. Enrollment
SiteLink will send your tenant an initial email after move-in and a reminder email 7 days before they will be automatically enrolled in your store insurance.
If the tenant does not provide proof of private insurance before the end of their grace period, the tenant will be enrolled automatically in your store's lowest cost plan. The tenant will then receive an email confirming their enrollment with an attached brochure and Certificate of Insurance. The tenant's first insurance payment will be prorated and added to their next bill.
Submitting private insurance coverage
Tenants can submit proof of their private insurance coverage by clicking the link to our proof submission portal from our Auto-Protect emails and entering their insurance details. If they submit private insurance coverage policy information, they will not be enrolled in your store insurance plan.
The tenant's insurance information will be populated in SiteLink after it is submitted. See the Monitoring enrollment section of this article for instructions to view coverage submissions.
📖 For more information about the documents a tenant receives as part of Auto-Protect, read our article: The tenant experience when enrolled in Auto-Protect.
4. Monitoring enrollment
No additional action is needed on your part unless a tenant reaches out to sign up for a specific insurance plan.
However, you can check the insurance enrollment status of your tenants on the Insurance Enrollment screen in SiteLink Web Edition by clicking Enrollment from the Operations screen.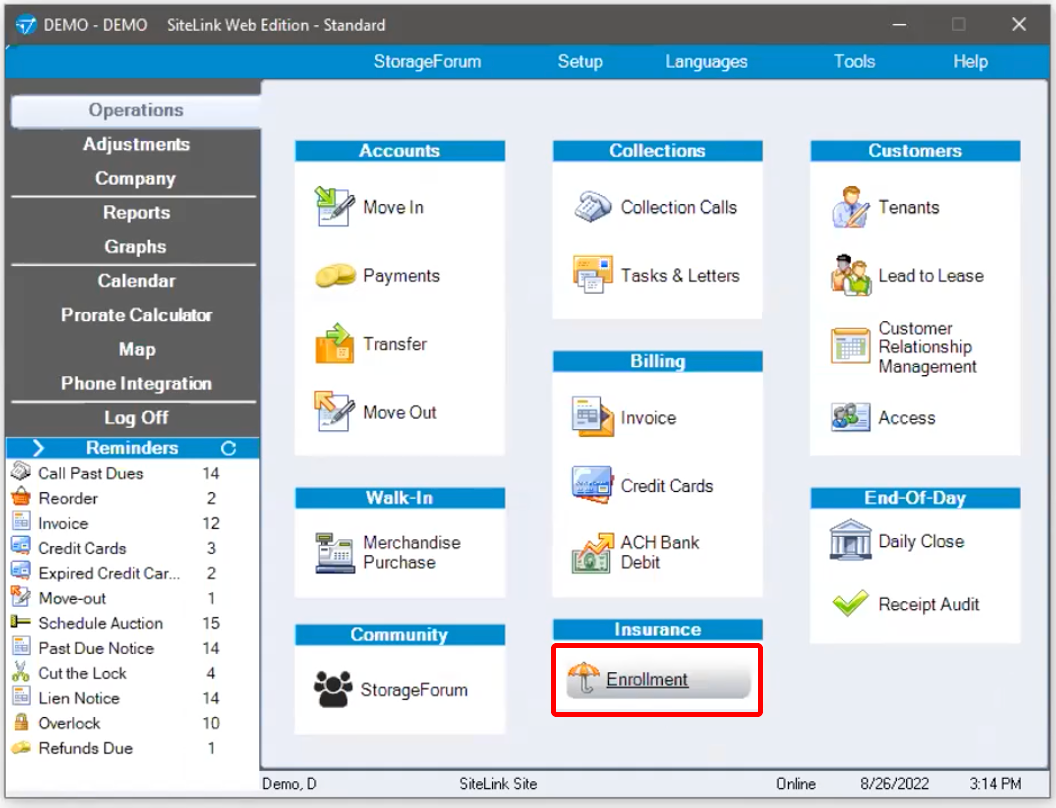 This screen has two tabs: Tomorrow's Enrollments and Search Enrollments.
Tomorrow's Enrollments
This tab shows all tenants who will be automatically enrolled in your Store's insurance and get the welcome email tomorrow.
Search Enrollments
This tab shows all tenants that are in the Auto-Protect workflow along with which document they'll receive next and the status of that document. Please note: Only tenants who moved in after you enabled Auto-Protect, who are not exempt from Auto-Protect, and did not move into a unit that was exempt from Auto-Protect will appear on this screen.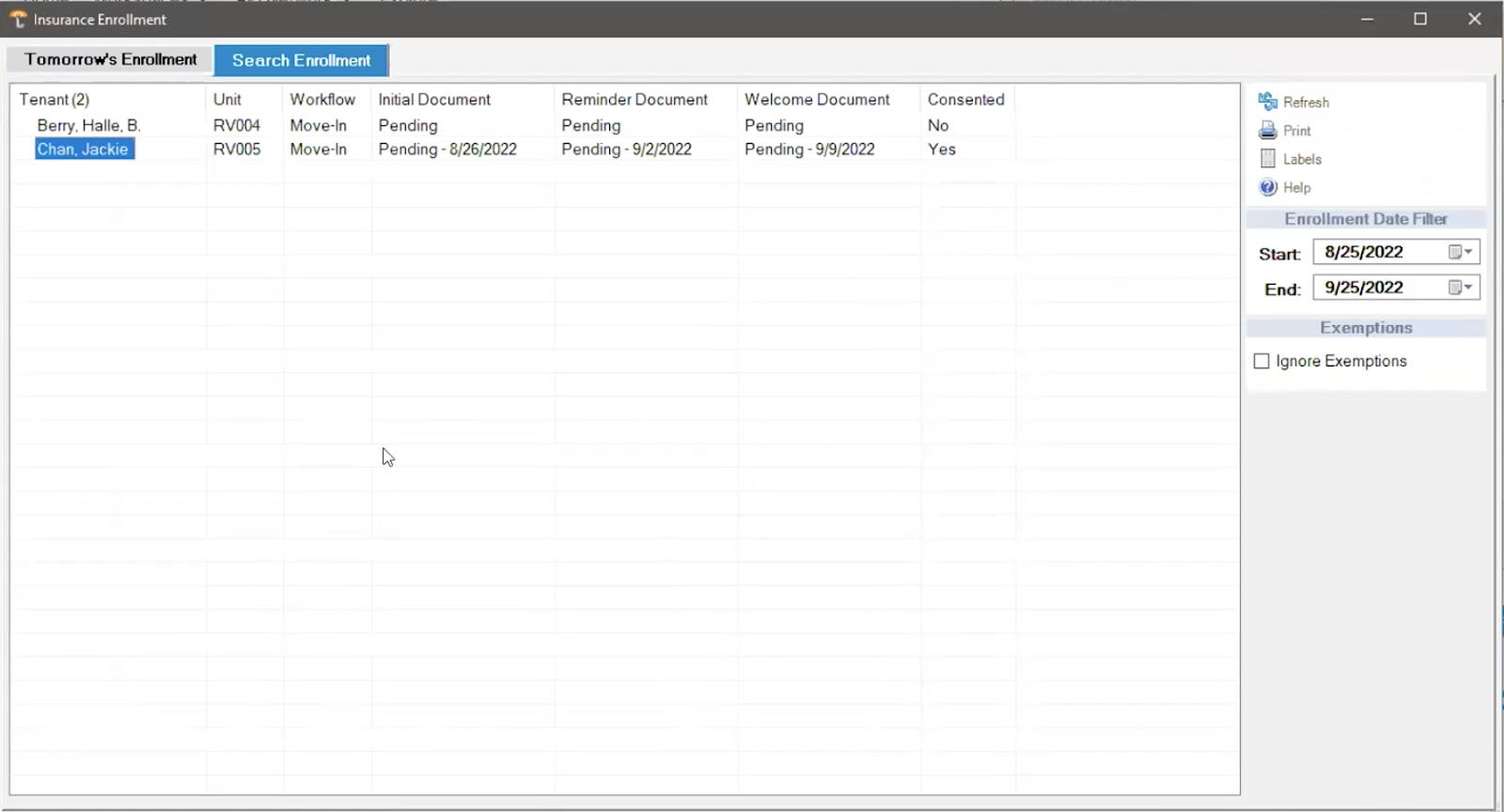 Columns
Tenant

: Tenant's name

Unit

: Tenant's unit

Workflow

: The step of the Auto-Protect process the tenant is currently in.

Initial Document, Enrollment Document, Welcome Document

: These columns will indicate the status of the document:

Pending: The document hasn't been sent yet.
Sent: The document has been sent (via email).
Delivered: The document has been delivered to the tenant's inbox.

Consented

: Indicates whether the tenant signed the Auto-Protect Agreement. If they have not signed the agreement, this column will say

No

. The Auto-Protect process will not begin for them until they have signed the agreement. All documents will remain in

Pending

in the

document columns until the agreement is signed.
View private insurance coverage submissions
Navigate to the Payment screen in SiteLink Web Edition and select the tenant and unit you want to view. There will be a shield icon in the bottom right corner of the screen next to Proof Status. If the shield is gray, the tenant is not insured. If it's green, they're either insured or they have submitted proof of coverage.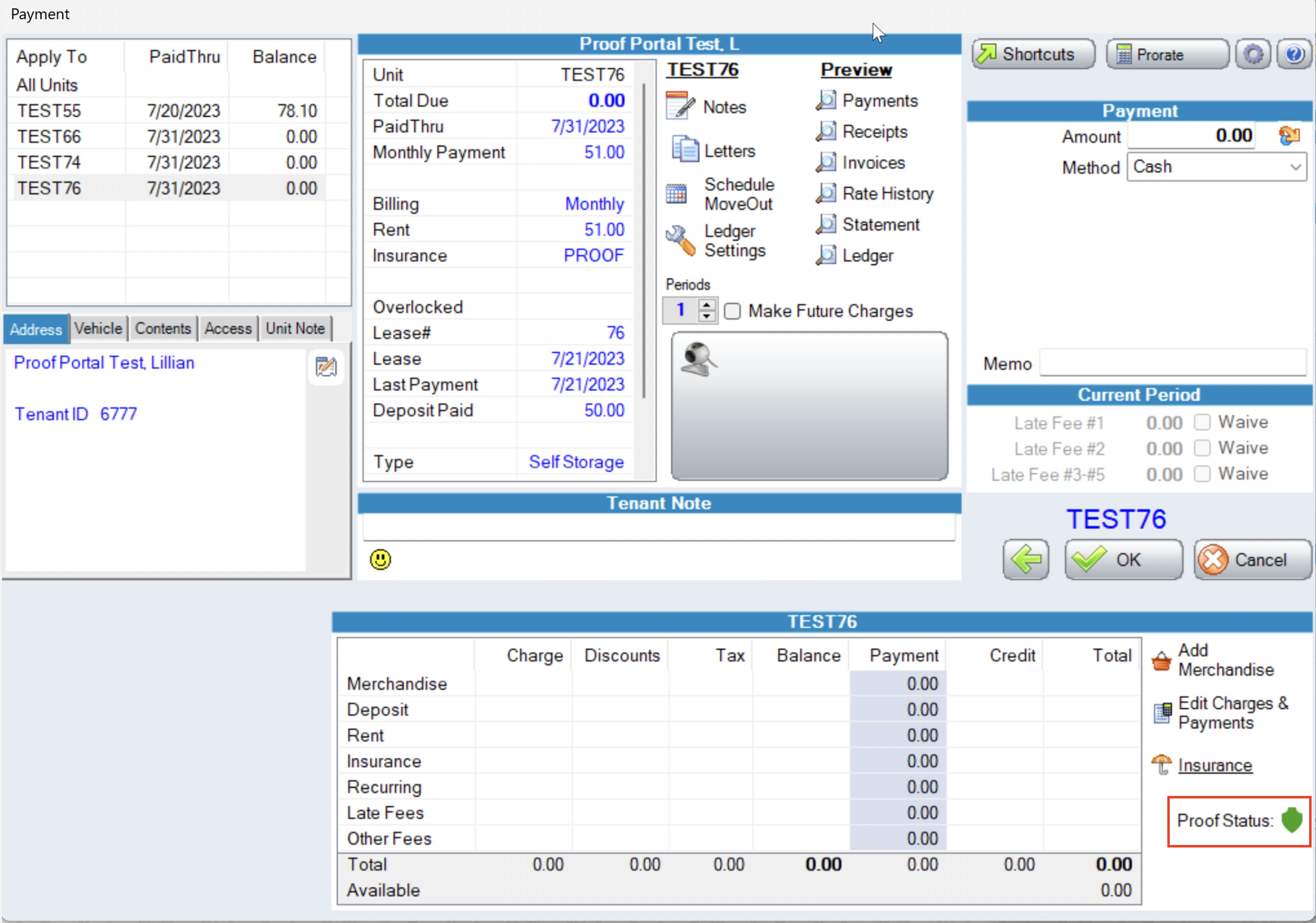 If you click the Insurance button above the shield and proof has been submitted, you'll see their policy information in the Proof of Insurance section.